Whispers of flamboyant mariachi melodies, the magnetic pull of vibrant fiestas and events, the time-weathered charm of colonial streets, the culinary treasure trove beckoning the gourmand in you – welcome to Guadalajara, Mexico's heartland pulsating with authentic Mexican traditions. Leave the trite touristy paths carved by many a traveler before you and step into a world where the real Mexico lives, breathes and thrives amid this vibrant city's bustling markets and serene plazas.
Prepare to immerse yourself in an array of delightful experiences, brimming with the warm richness of Mexican culture. Here, the local traditions are not just preserved artifacts, they beat with a robust rhythm, woven into everyday life like a resilient, colorful thread.
Venture into the rustic heart of Guadalajara on a passionate gastronomic excursion, tasting the hearty local fare from vivacious street markets. Find your feet tapping along the infectious tunes of mariachi bands cascading through the cobblestone streets. Unearth a library of vibrant stories penned within the corridors of time-worn cathedrals and world-class museums.
Settle onto a street-side espresso bar and observe the gentle commotion of everyday life on Guadalajara's streets. Trace ancient footprints preserved on the walls of haciendas or taste the epitome of Mexican spirit folded within a shot of tequila distilled from blue agaves grown under the warm local sun.
So, my discerning globetrotters yearning for vivid experiences beyond the veneer of usual tour itineraries, shall we embark on the alleys to Guadalajara and truly begin to understand its evocative narrative? Brace yourselves, for this Mexican gem promises to captivate your senses, charm your soul, and leave you with tales of an unforgettable journey, as we unravel 'what to do in Guadalajara.'
A Journey Through Guadalajaran Cuisine
Exquisite cuisine awaits in every corner of Guadalajara, inviting curious palates to savor the most authentic flavors of Mexico. Awaken your senses and embark on a culinary voyage that deftly weaves the old with the new, telling a deliciously compelling story of this charming city.
Exploring the Gastronomic Delights
Step onto the cobblestone streets and let the aroma of street delicacies guide your path. From dawn to dusk, the city hums with exhilarating energy, its streets adorned with vibrant food markets and cozy eateries.
Venture into the heart of Mercado Libertad, the largest indoor market in Latin America. Here, amidst the clamor, you'll find a myriad of local delights – from the heavenly sweetness of churros dusted with sugar to the succulent birria tacos, filled generously with tender roasted meat.
Need a recommendation for top-notch dining? Look no further than Alcalde, the city's first restaurant to win a Michelin star, or La Tequila, beloved for its endless varieties of tequila and mouthwatering traditional dishes, it paints a vivid picture of Guadalajuara's culinary landscape.
Traditional Cooking Classes
Fan the embers of your culinary curiosity by stepping into the intimate world of a Guadalajaran home kitchen. A traditional cooking class is not just engaging – it offers a chance for food-loving travelers to peel back the mystique surrounding traditional Mexican cuisine.
Experience the magic in places like the "Casa Luna Cooking School," where the stove is a stage, and you are an enthusiastic player. With the guidance of experienced chefs, you'll learn to create tantalizing dishes – tamales, enchiladas, or even a full-fledged mole sauce with the delicate balance of its multitude of ingredients.
Guadalajaran cuisine invites you to indulge in an unforgettable sensory experience – a symphony of flavors where each dish is a testament to the city's rich traditions. So, while traversing the city streets, wander not just with your eyes but with your taste buds. After all, the tale of a city is best read in its food.
The Heartbeat of Guadalajaran Performing Arts
Guadalajara is not only a feast for your culinary senses – it holds a pulsating rhythm that fills the air with soul-stirring music and fiery performances. From the immersive mariachi tunes to the thrilling spectacle of Lucha Libre, the city's performing arts scene is truly captivating.
The Melodies of Mariachi
Mariachi music, a potent symbol of Mexican culture, is deeply rooted in Guadalajara's rich soil. Characterized by the vibrant harmonies of violins, guitars, and trumpets, mariachi tunes carry stories of love, loss, and everyday life, enveloping listeners in a powerful emotional experience.
El Parian, located in the Tlaquepaque neighborhood, is an iconic spot where travelers can bask in the rich melodies of traditional mariachi. Traditional dances like the Jarabe Tapatío complement the music and offer an enthralling spectacle that invites visitors to become part of the rhythm.
Lucha Libre Defiance
Unleashing a riot of colors and emotions in the ring, Lucha Libre is a dramatic wrestling performance that is as much a sport as it is a cornerstone of Mexican culture. It is an electrifying spectacle where masked fighters embody heroic and villainous archetypes, battling it out amidst the fervent cheers of the crowd.
The roots of Lucha Libre are traced back to the mid-19th century, but its spirit lives on today, captivating audiences with its mix of athleticism and theatricality. The Arena Coliseo is a prime venue to witness the high-octane drama unfold, adding unforgettable memories to your Guadalajara itinerary.
Both mariachi and Lucha Libre performances offer visitors a unique lens through which to view and appreciate the city's vibrant cultural tapestry. Whether it's the soulful strum of the guitar under the setting sun or the rousing cheers in the wrestling arena, these experiences will leave an indelible mark on your Guadalajara story.
Architecture and History: Tracing Guadalajara's Cultural Footsteps
Guadalajara, a vibrant city in Mexico, is renowned for its splendid architecture and deep-rooted history. To share these experiences, let us take you on a virtual tour, highlighting some must-visit heritage sites and themed walking tours.
Masterpieces of the Sky
Start your exploration of Guadalajara with the architectural marvels that add character to the cityscape:
Guadalajara Cathedral: In the heart of the city, stands the majestic Guadalajara Cathedral. It's not just its twin-towered design that draws the eye, but also its fusion of Gothic, Baroque, and neoclassical architectural styles. The cathedral is special in Guadalajara's history, surviving earthquakes and lightning strikes. It's been rebuilt and restored over the centuries revealing narratives spanning over 400 years.
Hospicio Cabañas: A UNESCO World Heritage site, the Hospicio Cabañas is another splendid architectural wonder. Built-in the early 19th century, it served as an orphanage and hospital. Its simplistic design houses grand frescoes by Mexican artist José Clemente Orozco, offering a peek into Mexico's past and the life of its marginalized folks.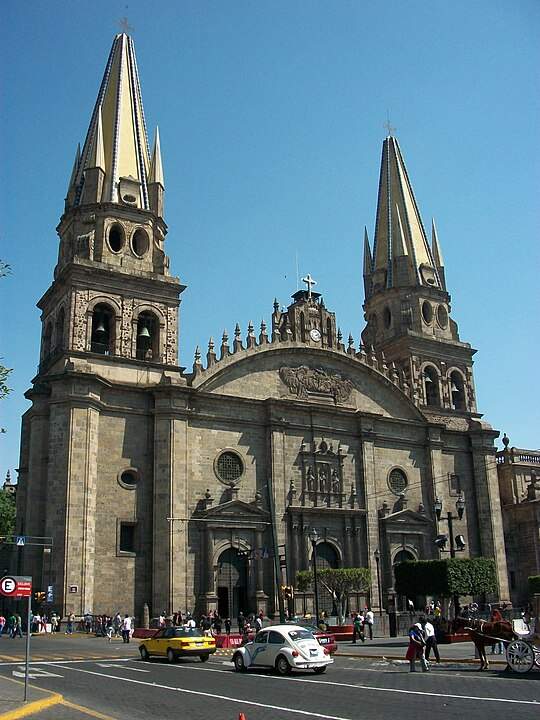 Walking Heritage Tours
For those who prefer to walk the pathways of history, Guadalajara offers an array of both self-guided and escorted tours:
Historic Center Walking Tour: Starting from the central Plaza de Armas, this tour maps out Guadalajara's iconic landmarks, including the Guadalajara Cathedral, Municipal Palace, Degollado Theatre, and the Regional Museum of Guadalajara.
Tlaquepaque Walking Tour: Located just 30 minutes from downtown, Tlaquepaque is an artisan village known for its vibrant arts and crafts scene. Explore streets with fine-art galleries, ceramic studios, and artisan shops offering a unique cultural experience.
Enjoy your journey to Guadalajara, a city where each turn reveals a story and every structure, an exhibit of the city's rich legacy, beautifully blending the past with the present.
Immersive Guadalajaran Art Scene
Unveil the curtain to Guadalajara's thriving art scene, where every corner paves the way to a visual odyssey. Here, history, culture, and innovation intersect, giving birth to creative expressions celebrating the region's soul and vibrance.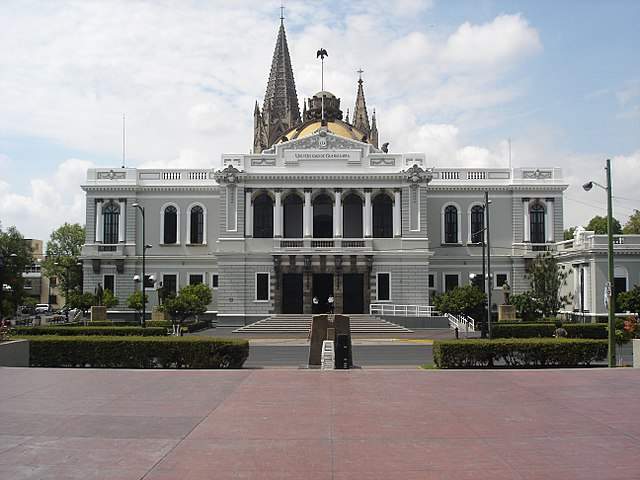 Museums of the Soul
Guadalajara's museums and galleries present an artistic tapestry where traditional and contemporary creations coexist. Two extraordinary hubs stand out amongst this kaleidoscope of artistic expression:
Instituto Cultural Cabañas: Hosted within the grandeur of a UNESCO World Heritage site, the Instituto Cultural Cabañas is a treasure trove of Mexican art. The heart of this institute pulsates with José Clemente Orozco's murals, where his profound narratives are exquisitely painted across the vaulted ceilings.
Museum of Arts, University of Guadalajara: Reinforcing the city's status as a cultural powerhouse, this museum houses a broad spectrum of art. From dynamic exhibitions of regional artists to showcasing international creative geniuses, its collections provide a comprehensive panorama of artistry.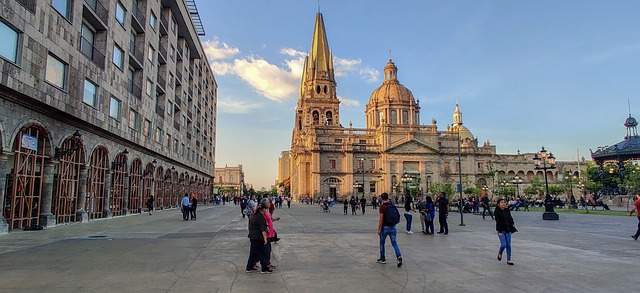 Street Art and Urban Vibrance
Peel your eyes from the guidebooks and step onto the city streets that have been transformed into an open-air art gallery. These vibrant murals splashed over city walls, whisper the tales of Guadalajara's soul:
Avenida Chapultepec: This showcase of street art is a cocktail of creativity, social commentary, and region-specific narratives. Vivid and thought-provoking, these artistic expressions give voice to the city's spirit.
Barrio de las Nueve Esquinas: Named after its nine corners, this neighborhood offers an authentic slice of Mexico through its picturesque walls, rich with local folklore and the charm of everyday life.
In Guadalajara, art is not confined within museum walls. It spills onto the streets, adorning the cityscape, offering a visual feast that reveals the heart of Mexico. Prepare to be drawn into an immersive experience where art becomes your compass, guiding your exploration of the city's unique cultural landscape.
Guadalajarans and Their Craftsmanship
In Guadalajara, artisan craftsmanship isn't merely a tradition but an inherited legacy echoing centuries of cultural richness. Let's delve into this magical world where the raw materials transform into intricate craftworks.
Artisan Workshops
Guadalajara's workshops offer a fascinating peek into the world of local crafts. Celebrating the balance of heritage and innovation, local artisans diligently mold earth, weave threads, and paint vibrant colors, creating exquisite pieces of art:
Ceramics & Pottery: Workshops like Cerámica Suro invite visitors to marvel at the craft of pottery making. Here, artisans combine time-honored techniques with modern design, resulting in exquisite ceramics known across the globe.
Textiles: Locations like the Tlaquepaque neighborhood provide a window into the intricate process of textile weaving. Traditional looms stand as testimonies of the city's textile heritage, weaving vibrant clothes and decor items that echo the rhythm of the loom.
Markets and Shopping
Markets and shops in Guadalajara are veritable treasure troves, where each item showcased relates a story and reflects the city's vibrant culture:
Mercado Libertad: Known also as Mercado San Juan de Dios, it's one of the largest indoor markets in Latin America. You can find everything from handwoven sombreros and silver jewelry to hand-painted ceramics.
Tlaquepaque and Tonala Artisan Markets: These areas are renowned for their high concentration of artisan shops. Here, visitors can purchase the finest pottery, ceramic, glass, and textile handcrafts made by local artisans.
Visiting Guadalajara offers the chance to see the city and touch and feel the essence of its culture through its crafts. Embarking on this journey, the visitors can connect with the city's heart, sharing the passion that Guadalajara's artisans breathe into each creation. It's an opportunity to take back home a memory, a story, a piece of Guadalajara's soul.
Festivals and Cultural Events
Unravel the colorful tapestry of Guadalajara's spirit through its lively festivals and cultural events. These celebrations bring together people from all walks of life, reflecting the city's heart and identity. As you mark your calendar, don't miss the chance to take part in these unforgettable events:
International Mariachi Festival
When: Annually, late August to early September
What: Known as "Encuentro Internacional del Mariachi y la Charrería," this festival is a true cultural extravaganza. Over a week-long celebration, the streets of Guadalajara resonate with the music of mariachi bands and the rhythmic footsteps of folkloric dancers. This event highlights the city's vibrant traditions, heritage, and its status as the birthplace of mariachi music.
Tips: Plan your visit around scheduled concerts, workshops, and competitions. Admire the galas, parades, and charrería (Mexican rodeo) displays, immersing yourself in Mexico's rich musical and equestrian traditions.
Feria Internacional del Libro
When: Annually, late November to early December
What: As one of the most significant literary events in the Spanish-speaking world, the Feria Internacional del Libro de Guadalajara (FIL) offers a rich program catering to literary enthusiasts and publishers alike. With captivating panel discussions, lectures, book launches, and poetry readings, this event transcends linguistic and cultural borders.
Tips: Leverage the opportunity to meet established and emerging authors, attend workshops and networking events, and explore the FIL's extensive array of regional and international publications.
In Guadalajara, festivals are not merely events but a testament to the city's cultural identity. Mark your calendars, as every celebration offers an authentic taste of Guadalajaran life and an experience that resides in your memories for a lifetime.
Practical Tips for Embracing Guadalajaran Traditions
Immersing in Guadalajara's nuances demands more than a well-planned itinerary; it calls for understanding and embracing its traditions and practicalities. Ensure your seamless venture into the heart of Guadalajara with a handful of essential tips: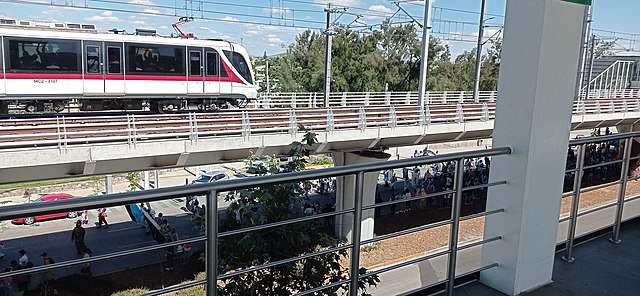 Transportation and Safety
Guadalajara's structure invites explorers to traverse through its beating veins – its transportation channels – and unwrap the city's effervescent appeal. Keep these points in mind:
Public Transportation: The city's public transportation, including buses and the Guadalajara light rail system (Tren Ligero), is efficient and offers an affordable way to navigate the city. Tap into the city's "MiBici" public bike system to exercise while exploring.
Taxis and Ride-hailing Services: Legal, registered taxis and ride-hailing services like Uber are readily available, providing efficient and safe travel options.
Safety Recommendations: As with any city, it is advisable to remain cautious and mindful of your belongings. Stick to well-lit, populated areas, particularly at night, and secure your personal belongings.
Language and Etiquette
Get a step closer to the Guadalajaran spirit by understanding and respecting its language and customs:
Simple Spanish Phrases: While many locals speak English, learning simple Spanish phrases like "Gracias" (Thank you), "Por favor" (Please), and "Disculpe" (Excuse me) can go a long way in building connections.
Local Customs: Embrace the local habit of greeting with a friendly "Buenos dias" (Good morning) or "Buenas tardes" (Good afternoon). In Guadalajara, punctuality can be fluid, illustrating the relaxed pace of life. Don't be surprised if events start a bit later than scheduled.
Embracing these practicalities aids you to sail through the vibrant realities of Guadalajara smoothly. Remember to approach each day with an open mind, ready to embrace Guadalajara's traditions as you uncover every cultural corner of this lively Mexican metropolitan.
Conclusion
Dive into a whirlwind of experiences in Guadalajara, where history intertwines with modernity, and vibrant traditions resonate amidst urban rhythms. Exploring Guadalajara is more than a journey; it's living an authentic narrative:
Relive history through the city's architectural gems. Marvel at the flamboyant details of Instituto Cultural Cabañas or relish the silent grandeur of Guadalajara Cathedral.
Unravel the beauty of Guadalajara's cultural tapestry through thriving art scenes, artistic murals, and local artisan crafts.
Embrace the infectious festive spirit at the International Mariachi Festival or during the literary richness at the Feria Internacional del Libro.
Navigate the city seamlessly and safely, soaking in local vibes and engaging with traditions by learning some Spanish words and understanding local customs.
Indeed, Guadalajara pulses with an unwavering spirit captured in every street corner, smiling face, finger-strummed mariachi note, and the vibrant colors and textures of its local crafts. Step into this lively city and find yourself enveloped in a story – a narrative that's palpable at every turn, deeply embedded in the city's roots yet flourishing towards the future.
So, pack your adventurous spirit and brace for the thrilling journey that awaits you in Guadalajara, exploring the lifelines of this bright and charming Mexican city.